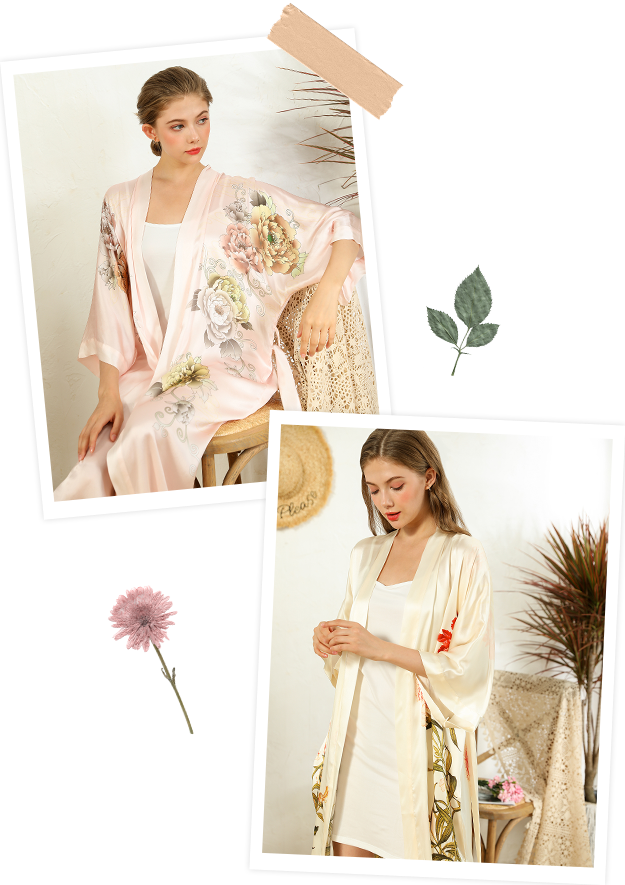 Our Story
KIMONOL was founded by two best friends who dreamed of outfitting the closets of one-of-a-kind women. The creatives, the dreamers, the jet setters, the goal-getters—these women can be anywhere and everywhere, conquering the world while flaunting handsomely made silk robes befitting royalty.
KIMONOL intends to craft kimonos made of the finest silk and satin materials with prints inspired by the serene beauty of nature. But that's not the best part—you do not need to break the bank to call a KIMONOL robe yours.
Our founders, Cindy & Carmen, redesigned the classic kimono with functionality and elegance in mind. Then, they spent weeks thoroughly searching for dedicated vendors, passionate artisans, and detailed craftsmen who will bring their designs to life.
Just like how delicate and fascinating silk production is, the best friends made sure every step it takes to breathe life to a KIMONOL creation was handled meticulously.
Our kimonos are not only sophisticated and within reach, but it is also lightweight and durable. A KIMONOL robe can take you places; whether it be at the beach, at work, or in the sanctuary of your home, your kimono is beautiful in just about every occasion.
Our Concept
KIMONOL is a carefully sourced collection of beautiful silk and satin kimonos. Based in Toronto, we are focused on providing artistic, sustainable luxury for women worldwide.
VERTICAL MILLS &
FEMALE FOUNDED BUSINESSES
Vertical mills are factories that produce both the raw material and finished product. This means that we reduce environmental wastage, overproduction while increasing efficiency in production and cost.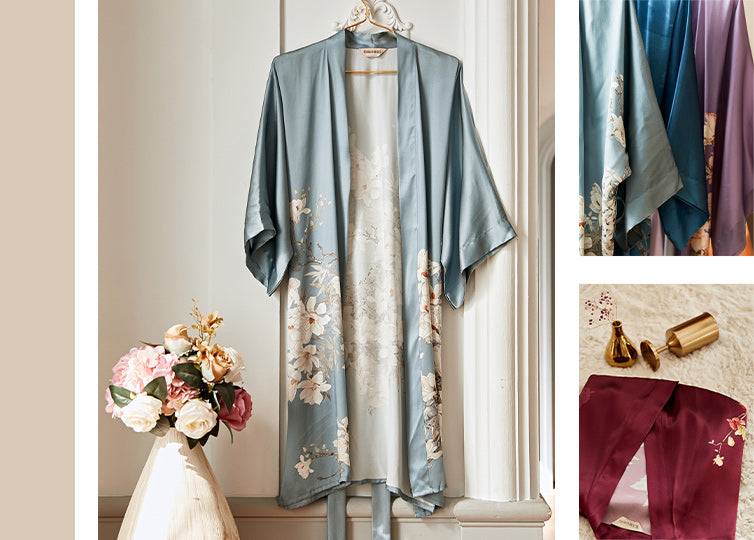 SUSTAINABLE AND EFFICIENT
It is very common that our best selling products sell out quite fast. We prefer that this happens so that there is no wastage when it comes to the production side. However we also want you to secure the kimono that you desire! We continually update that product page on the delivery times and drops in stock styles.
When you preorder an item we will add extra time to put conservative delivery times in order to not disappoint customers. All pre orders are charged straight away in advance. However, should you have a change of heart or circumstances you are always welcome to cancel your preorder as long as it is not shipped.
In order to provide efficient worldwide shipping, prevent extra costs & unnecessary contributions to environmental waste, we ship our products directly to our customers after manufacturing.
HONEST PRICING
We believe in real affordable luxury fashion for the hardworking modern woman. We also believe in supporting small factories that are challenged by the fast fashion, low cost, high wastage industry. Thats why we structure our pricing to make up less than 60% of the product cost.